This is a body of work about white mindedness.
Women seeking to self-examine, confront inner and social prejudices, and change the world one step at a time, beginning with their unconscious biases, will find no better guiding light than Beyond Karen: Emerging From The Depths Of An Epic Epithet.
It's a self-help and social change adviser in the guise of a memoir, and thus is much more readable and relatable than most social and political calls to action, using the 'Karen' phenomenon as a starting point for understanding language, assumptions, and change.
This is the personal memoir of a woman whose name has come to portray privilege, elitist attitude, and entitlement on a level that defies social inspection. Karen Willard Ribeiro wrote this book to heal social and interpersonal relationships, both personally and societally, and to reach others struggling with Covid and social unrest: "In the grand scheme of the 2020-21 "moment," with COVID-19 and illness and job losses and natural disasters and political fears to contend with, taking a deep dive into the dark "well" of Karen name-calling to write at least my own way out of it has been a way to take action and not succumb to the overwhelm." Willard Ribeiro offers "a wide-angle lens on the ongoing tragedy of the commons, to Karens, to the curse of and on white middle-aged women."
Her discourse charts her own "Pivot Moments of Choice" to move from the position of white privilege to a more embodied response to life, providing a road map for other women seeking to do the same. It takes the 'Karen' meme to new levels of inspection as Ribeiro examines, with passion and pathos, the impact of her name, her choices, her role in life, and the changing social environment around her: "I hear the Kansas song, "all we are is Dust in the Wind" in my head knowing that ultimately, as with all things, this [Karen trope] too will blow over. But I am done waiting for nature to take her course when she is being manipulated by countless emotionally dysregulated people in every facet of society. It is not just the greedy elite who believe they are entitled to more and more and more and more of everything. It is all of us who can no longer bear the trauma of a life full of so many "things that make you go hmmmm," so many experiences of cognitive dissonance, that our brains are simply no longer able to contain the compacted rubble of emotions we have suppressed for so long."
During this process, Ribeiro speaks of gratitude, transformation, collective memories, mother/daughter relationships and their impact, and much more.
In addition to analyzing what is, she considers the positive potential of "what if": "What if we all could focus on our breath at all the most important moments? The process of transformation, creating sufficient time and space for processing emotion, ideally with someone who cares, is everything."
If you are a white woman confronting prejudice and racism in the world today, Beyond Karen: Emerging From The Depths Of An Epic Epithet will resonate on a deep level…especially if your name is Karen.
~ Diane Donovan, Midwest Book Review
Users of social media know "Karen."
She's known as a conservative, suburban, middle-aged white woman whose instinct is to call the manager—or the police—when others, usually people of color, are not following "rules" as she understands them.
Karens were all over Twitter, Instagram, and Facebook throughout the pandemic and it wasn't pretty. 
It is time for the behavior of being a "Karen" to get a close examination. Narcissism … Perfectionism … Entitlement… it is emerging as a culture of "canceling" and calling out oppression and unexplored biases.
Beyond Karen can help fellow travelers seeking understanding in a clear-eyed, straightforward, yet compassionate way — with historical context and personal stories to motivate the readers' inner journey.
Beyond Karen: Emerging from the depths of an epic epithet is a work of non-fiction activism and personal memoir urging white people to boldly face feelings of sadness, anger, and fear in order to reckon with their Inner Karens (and Kens, their male counterparts).
Order from any local bookstore today!
Or Venmo $20 plus $5 S&H  @BEYONDKAREN to buy now.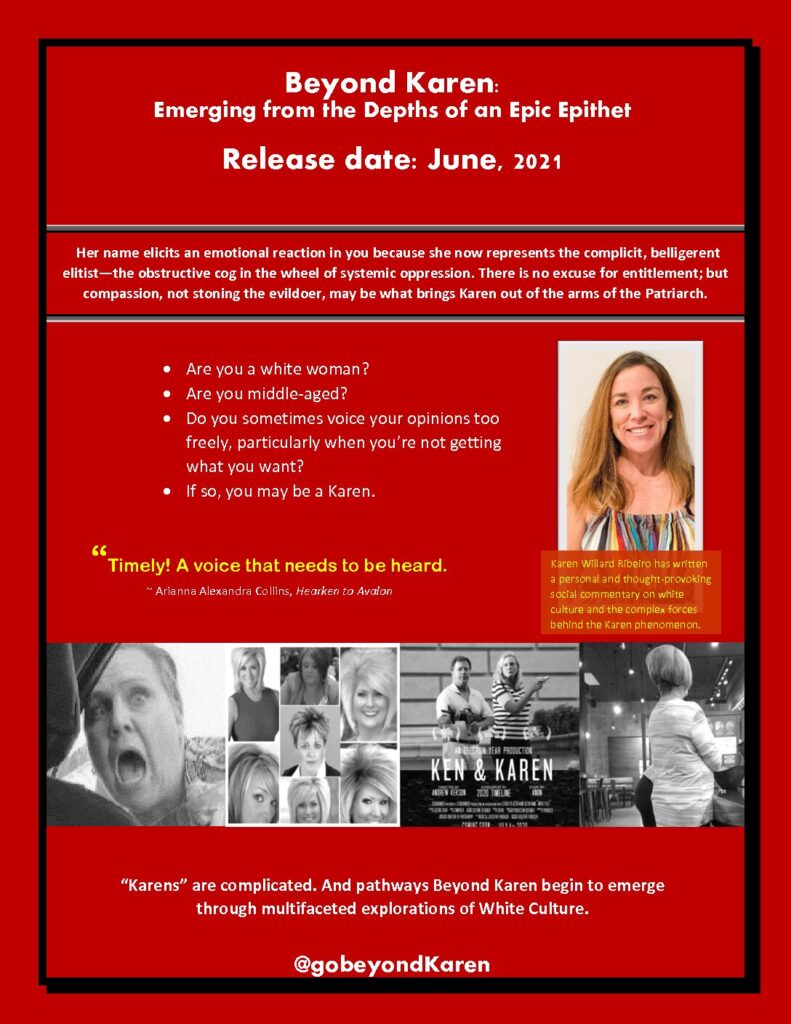 As the founder of Inner Fortune (the journal and coaching process), I have published this book as a project of Inner Fortune.
The tools within the Inner Fortune journal supported my effort to unpack my experience of white supremacy and draw from professional relationships as a former banker and politician, and long-time climate defender.
Yes, my name is Karen. I believe all middle aged white women can ease the burdens of their prejudices, biases, and unconscious acts of minimizing other's pain and suffering by facing harsh realities, ideally in community.
I hope this book will guide you through the multifaceted realities of the Karen phenomenon along with heart-centered intimate stories and insights to move … well … Beyond Karen.