InnerFortune journaling and consulting offers us a carefully crafted way to reflect – to look at our life with fresh eyes — to keep strong emotional skills, to cultivate in-sight, to reduce angst and stress, and to be resilient humans.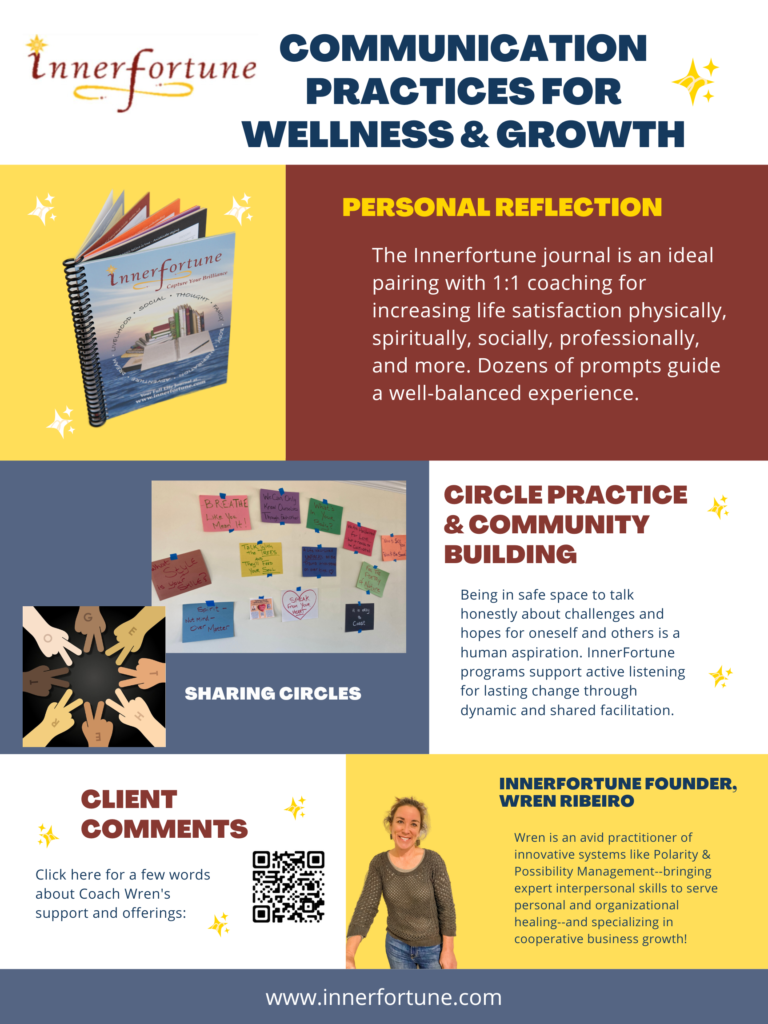 This tool was born from my experience of needing more community, more honest dialogue, and more spirit while working in the finance sector. It serves as a great "self-coach" when harsh interpersonal dynamics block our connection and clarity.
I use this tool to find grace along my growth edges. And the wish is for all of us humans to know peace so deeply that we turn gently toward each other with insight and wonder.

InnerFortune

services include:
administering organizational assessments – specializing in worker-owned enterprises

facilitating collaboratively designed activities

aligning interpersonal dynamics
Nourish Yourself on the journey toward Inner Fortune.
Express Your Spirit.
Deepen Intimacy.
Cultivate Gratitude.
Know Your Truth.
How have you experienced the Solidarity Economy? What does it mean to you? This past weekend I had the sweet and good for-tune of finding resonance with dozens of clearly vibrating humans at the annual Solidarity Economy Network festival in the fresh air Berkshires of Massachusetts. Day one was filled with loosely planned and elegantly facilitated workshops that included topics like Economics 4 Emancipation and activities like laughter yoga.