The battle between Wisps and Chains. Sounds intriguing.
When I muse about the notion of volition–one's calling or journey–and how the path one walks can twist or turn (or not), I think about spirituality and economics and the subtle or raging battles between the two.
Volition is a topic my weekly meditation community (sangha) has explored over time; this week's dharma discussion was about Tara Brach's RAIN (Recognize, Allow, Investigate, Nurture) and during the guided meditation segment of our time together, we did some time traveling to envision our future selves. It was great fun for me and perhaps a bit scary for the septuagenarians in our group.
Volition is an uncommon word that can be equated to career, but more accurately refers to the work one is drawn to from the heart or the embodied passion which arises from what one sees, what one struggles against, what one chooses to act on. Often, the things which nourish the heart and bring meaning to ones life are not the things one gets paid to do. But perhaps, if one is really clear about and determined to pursue a cure or solution for a problem, she will succeed in eventually getting paid for her efforts; that which satisfies the fuller meaning of volition.
I recently had a lovely two and a half hour in person conversation with a friend. We sat six feet apart on her porch as the misty temperature hovered around 48 degrees fahrenheit. With no agenda aside from strong desires to catch up we wove together brilliant stories full of color — civic ambitions, p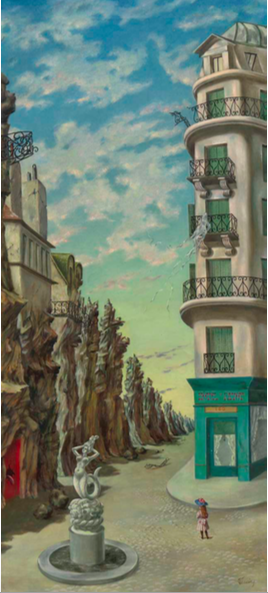 ersonal tragedies, strategies and best practices for being resilient and hopeful. It was full of grace, gently paced.
Afterwards this friend sent me an article about the French painter Dorothea Tanning highlighting one of her most famous paintings, A Parisian Afternoon. We had noted the presence of "wisps" or spirit whispers and the practice of listening for them in our lives — and now here was a painting featuring them (can you see?)!
As any inspired artist will know, following the wisps in life can be very fulfilling spiritually and very challenging financially. Hence the passage, "you cannot serve both God and money." And yet, the correct perspective–prioritizing the still small voice within our body-mind (not the urgent loud voice which triggers our traumatized hot spots within our body-mind)–can lead us forward slowly, intentionally, and keep the greed and fears about money disciplined.
In the Inner Fortune journal's THOUGHT section, we learn how to use our WITS: the practice of asking "why is this so" at least 4-5 times in order to slough off the habitual response or culturally conditioned response to a question or dilemma. This section of the journal, like each of the eight sections, has unique prompts and processes for balancing the right and left brain responses to life experiences. But this section's top-of-the-page prompt has stuck with me nearly daily since I created this journal 14 years ago. It's an Anishinabe saying, "what people believe is true."
2020 has been the year that many people say they wish didn't happen. It's the year that I dubbed "the Year of Truth" back in January and have been writing about monthly based on an inspired subject for each month of the year. I can absolutely say that this year has been a Wisp-full year for me because I have not just opened myself to such guidance, I have also been especially disciplined about listening (and realize how much more skill I have to develop in order to listen well!).
For the past few months I have taken to writing more regularly. I've made a commitment to myself to publish a story each Wednesday on medium.com (@innerfortune) and each month I have been honoring the inspiration gifted me by the wisps with a post on this site. It's small stuff because, thankfully, I am not inspired to self-promote and don't have many engagements to respond to. I have also amplified my daily physical practices including being out of doors more mindfully engaged with nature. I have much to learn about this.
Being that 2020 is also the 400th year of colonizing the northeastern native lands of America, I have been actively learning from indigenous people and those who have made understanding indigenous ways their volition. A couple of days ago I found myself using the phrase "thank you for doing what you do" with such an individual who has literally mapped out parts of the narrative corresponding to tribal lands in the northeast.
Lately I have shed verklempt tears over the battles to uphold a most basic human right to live in balance. We all have daily assaults to our multidimensional harmonies. Can we all find time to pause and reflect on, inspect, and protect these energies? Can we create the spaces of home, work, community, that nourish us and set the frames and boundaries needed to sustain harmony inside and out? Humans certainly have to work hard to achieve what comes naturally … to nature.
The shortest medium.com story I wrote features two great men; Sitting Bull and Shakespeare. It is about truth and reconciliation. In it I offer this quote:
Whether or not you are consciously aware of or actively feeling the massive societal shift underway, the critical mass engaged in Truth and Reconciliation across the planet has catalyzed a Great Turning.
What is the turning? I believe the root catalyst is the intolerable pain and suffering most keenly felt by people of color and women due to a dominant cultural paradigm of intolerance of nature. Shakespeare posed the famous question, "to be or not to be" and we all ask this of ourselves. What does it mean to be? What does it mean to tolerate pain and suffering to the point of illness? What does it mean to heal … completely … to resolve conflicts as they arise and reconcile those that linger?
Answers to these questions are what help us define our "calling", our volition, our life purpose. We want to continue on in the hearts and minds of our families and friends after we have left this world. Can we hope to do this if we doggedly pursue money and ignore the gentle whispers of spirit and nature?
Over the next month I will be marinating on the topics of Grace and Generosity — of giving space in conversation, of noticing, witnessing. Please Stay Tuned. Stay Inner Fortuned.